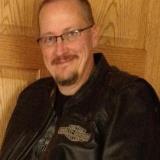 TERRY MICHAELS – M-F 2PM-7PM
Get to know Terry in 1 paragraph and 15 questions
Terry started broadcasting in the late 1990s in Duluth, MN where he worked as a volunteer air-talent. He quickly moved up the ladder and became music director, program director, traffic director and social media director and morning show host (at the same time!) Seeking warmer weather, he moved his wife and two kids to Central Wisconsin in 2009 where he worked as a network Program director and Afternoon Air Talent. Still not feeling warm enough, he took the big leap and landed here in Pensacola.
1.) What are three adjectives which describe you best? Contemplative, Caring, Creative
2.) What is your favorite meal? My wife's meatloaf and mashed potatoes. However, I do like Pickled Pigs Feet, (every bite is a meal in and of itself!)
3.) Do you have a hobby? My biggest hobby is riding my motorcycle. I guess I have a Harley Hobby..
4.) Do you like to dance? If so, what style of dance do you like the most? Yes, I dance. I have my own style…with jazz hands.
5.) Do you like to play a musical instrument? If so, what instrument(s) do you play? I have been known to play the cowbell if the muse descends..
6.) What is the best vacation you've ever had in your life? Spending 10 days in Germany with my beautiful wife and my sweet daughter visiting our best friends.
7.) If you could have a lunch with any three people (real of fictitious/ from any time period, dead or alive) , which three people would you choose and why? Jesus, My wife Susan, my brother Troy. (But I'm still planning to do that someday.)
8.) What is one thing you miss about being a kid? Being skinny
9.) When you have a hour of free time, what do you like to do? Ride the Harley with Susan.
10.) What is your pet peeve in traffic? tail-gating! I'm not going to go faster just because you are an inch from my taillights!! Back Off!!!
11.) Without using names and too many details, what is the worst date you have been on? Once I got someone to go out with me, I married her.
12.) Who is the person you respect the most? Why? My wife Susan. She is my hero in so many ways.
13.) Do you have a favorite quote? If so, what is it? "Reputation is what men and women think of us; character is what God and angels know of us." ~ Thomas Paine
14.) What do you think is the greatest invention in your life-time? Duct tape
15.) What is your favorite music format? Classic Rock. It's both Classic… and it ROCKS!